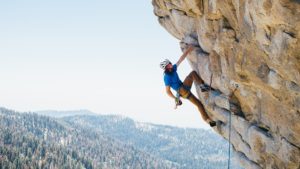 Mountain climbers could save time and energy if they reached the summit in a helicopter, but their ultimate purpose is conquest, not efficiency. Runners could get to a destination much faster if they drove a car, but the purpose is the challenge, not just the destination. Sure, they want to reach a goal, but they desire to do it by testing and deepening their character, resolve, and discipline.
Even though it doesn't feel good going through it, God our Father lovingly disciplines us as disciples of Jesus for our good. Tom Constable points out in his Expository Notes, "there is a real as well as a linguistic connection between "discipline" and "disciple" and "discipleship." We cannot be Christ's disciples without the discipline from God that leads to discipleship.
Hebrews 11 is filled with examples of those who endured God's discipline, so they could walk by faith. Hebrews 12:4-13 provides a realistic perspective of life so that we can endure God's loving discipline and win the race marked out for us by faith.
sermon by: Larry Murray
date:10.14.2018
HEBREWS:
Jesus is Greater
2018 Sermon Series
The letter to the Hebrews was written to a 2ndGeneration of Believers who were dealing with questions, concerns, and controversies among believers. The Book of Hebrews offers great instruction and comfort for us as Plano Bible Chapel begins the next 50 years of following Jesus. While there are some grand doctrinal themes, we find generous amounts of faith, multiple portions of hope, and enthusiastic helpings of love. Hebrews transforms our understanding of Christ, our Christology, from abstract theology to intimate relationship. JESUS IS GREATER!
Hebrews 12:1-2 Therefore, since we also have such a large cloud of witnesses surrounding us, let us lay aside every hindrance and the sin that so easily ensnares us. Let us run with endurance the race that lies before us, keeping our eyes on Jesus, the source and perfecter of our faith. For the joy that lay before him, he endured the cross, despising the shame, and sat down at the right hand of the throne of God.
DONATE ONLINE
through our secure giving center

REGISTER ONLINE
for upcoming special events

Sunday Service Times
9:30 am
Adult Life Connection Classes
Estudios Biblicos en Español
Children's Classes
Junior High & Senior High 
10:30 am
Coffee and Fellowship
11:00 am
Communion Worship Service in English (Auditorium)
K- Grade 5: Children enjoy worship service in the main auditorium with their families. Children will be dismissed to Children's Church midway through the service.
Servicio de Adoración en Español
(Fellowship Hall)