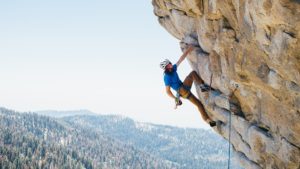 Mountain climbers could save time and energy if they reached the summit in a helicopter, but their ultimate purpose is conquest, not efficiency. Runners could get to a destination much faster if they drove a car, but the purpose is the challenge, not just the destination. Sure, they want to reach a goal, but they desire to do it by testing and deepening their character, resolve, and discipline.
Even though it doesn't feel good going through it, God our Father lovingly disciplines us as disciples of Jesus for our good. Tom Constable points out in his Expository Notes, "there is a real as well as a linguistic connection between "discipline" and "disciple" and "discipleship." We cannot be Christ's disciples without the discipline from God that leads to discipleship.
Hebrews 11 is filled with examples of those who endured God's discipline, so they could walk by faith. Hebrews 12:4-13 provides a realistic perspective of life so that we can endure God's loving discipline and win the race marked out for us by faith.
sermon by: Larry Murray
date:10.14.2018